August 2009 Other news

This summer we were in France and had the pleasure of seeing Latif's sister and her offspring again. Of course it was great to see young Joss (Qirmizi Joshua) also, Gaby son, and sad that his injury will leave him with a limp.
Enjoy the photos of the relatives!

August 2009 lure coursing news

Great news! Barbro has let me know that Heydar de Lunduki has also obtained his lure coursing license. Three of Gaby's offspring in Sweden can compete in lure coursing now.
Haxim de Lunduki has been in Denmark to participate in Demarks first lure coursing competition. He was second best male! Congratulations Anja & Hasse and Elisabeth!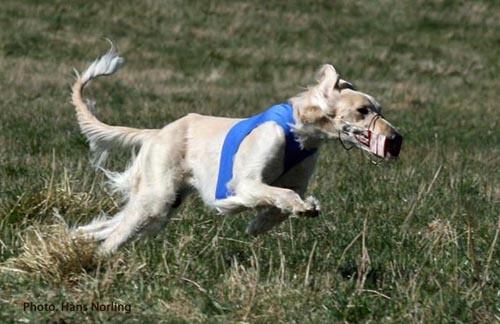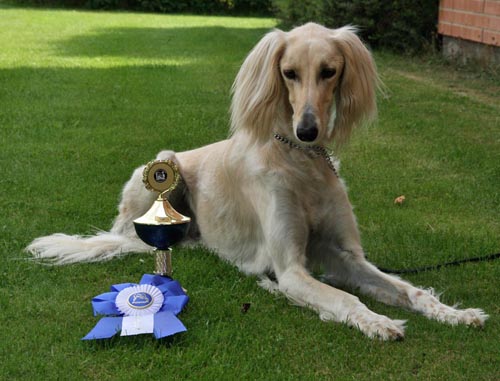 August 16th The Norwegian Saluki Specialty

Judge: Deric Aube, USA (Z'bee Salukis)
Svale was third in championclass and Gaby second in veteran class. Marie Frisén presented the girls again and they looked lovely. It was also great to see both Haxim and Hazrat de Lunduki at the show.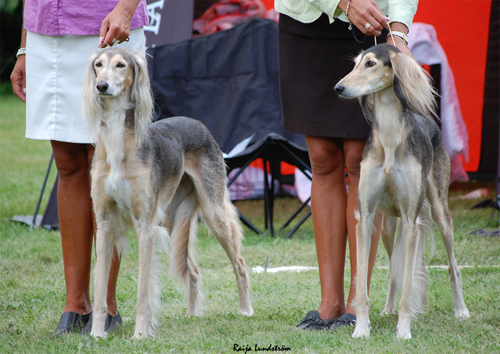 Mum and daughter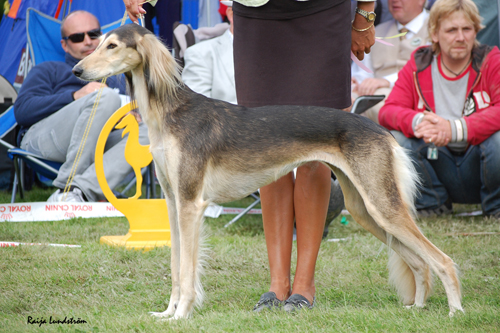 Svale third in champion

August 15th NKK INT Oslo

At the international allbreed show in Oslo, Svale was best bitch second and won the CACIB and Gaby was third best bitch and BOB-veteran under Lotte Jørgensen, from Denmark. In the veteran final judged by John Reeve-Newson, from Canada Gaby was Best in Show veteran!
I had many hesitations about entering this show, but with such nice results I have no regrets. Marie Frisén did a wonderful job presenting the girls and what a thrill with Gaby winning BIS veteran on the Saturday, at the second biggest show in Norway. The rain was pouring down so it is quite an achievement.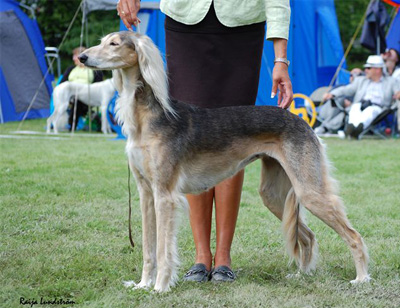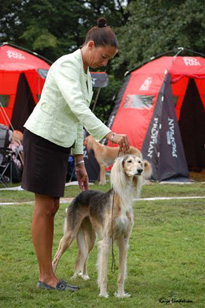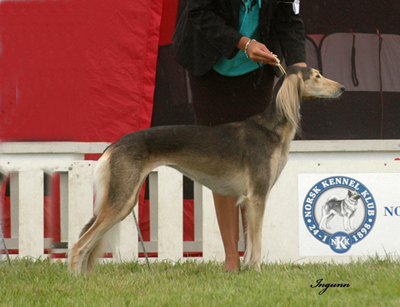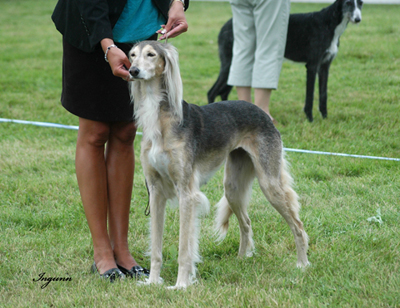 August 9th SKK INT Ronneby, Sweden

Judge: Mary Jayne Eather, Australia
At this international allbreed show in Sweden, Heydar de Lunduki placed as fifth best male.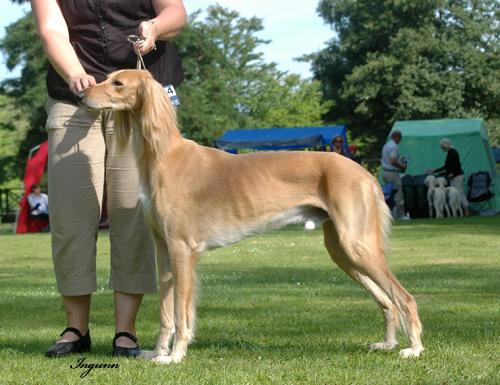 May 31st The Norwegian Sighthound Specialty, day 2

At the Sighthound Club's specialty Svale was third in champion class and Gaby was BOB-veteran under judge Wilfriede Schwerm-Hahne, from Germany.
It was lovely to see Astero; Hazrat de Lunduki, at this two day show. He has really grown into a lovely boy and there are updated photos of him on the H-litter page. He placed in the champion class both days.
This weekend the girls were expertly handled by Ingunn Solberg and Ines Blix.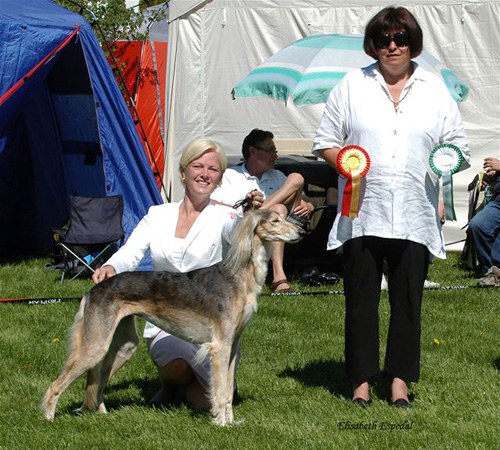 Gaby BOB-veteran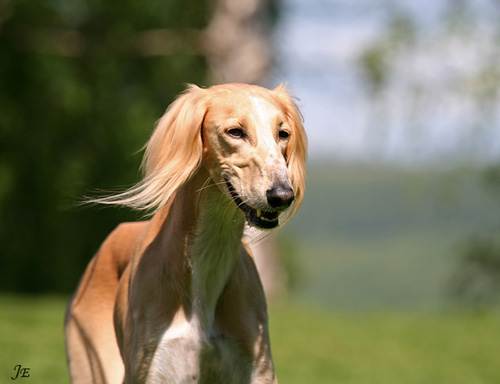 Hazrat

May 30th The Norwegian Sighthound Specialty, day 1

At the Greyhound Club's sighthound specialty Svale was fourth in championclass, while Gaby was BOB veteran under judge Barbara Ruth Smith, USA/Sweden. Gaby later placed as third veteran in show.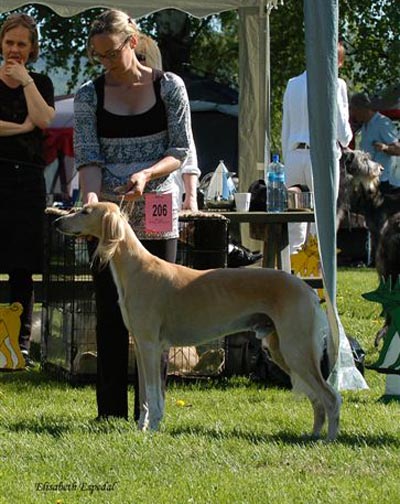 Hazrat de Lunduki

May 9th NKK Kristiansand, Norway

At the international allbreed show in Kristiansand, Svale placed as best bitch third.
Judge was Jose Homem De Mello, from Portugal

April 18th, Laholm, Sweden

Gaby's son, Qirmizi Jeremy was at his first lure coursing competition today. He did a wonderful job and ended as number 12 of 37 salukis! Well done, Kiwi and Annelie!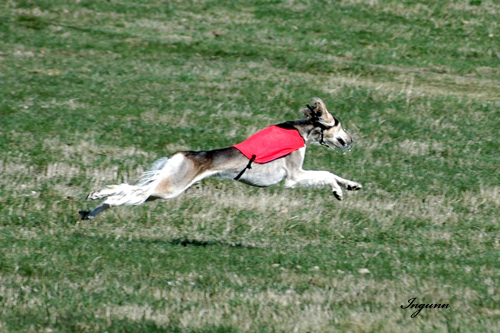 April 12th, Finland

In Finland, Gaby's son Qirmizi Jercho won the CC and was third best male, from the intermediate class. Judge was Gabriela Ridarcikova. Congratulations, Susanna!

March 22nd, SKK Malmö, Sweden

In Malmö, Sweden Heydar placed as fifth best male more than 70 salukis. Judge was John Hudson from England. Congratulations Barbro!

March 21st, NKK Bergen, Norway

At the international allbreed show in Bergen, Norway the salukis were judged by Knut Fr Blütecher, from Norway. Gaby was second best bitch and BIS-2 veteran, while Svale was best bitch three.

February 15th, Eidsvoll, Norway

Kiwi won his third CC this weekend under Per Iversen, from Norway. He was also BOS.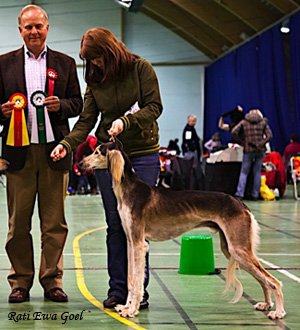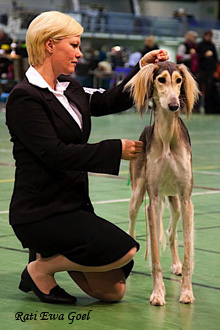 January 11-12th, Eidsvoll, Norway

At the allbreed shows in Eidsvoll this weekend Qirmizi Jeremy won his first CC and was best of opposite sex under Henrik Johansson, Sweden on Saturday. On Sunday he won his second CC and was also BOS under Arne Foss, from Norway. Congratulations Annelie!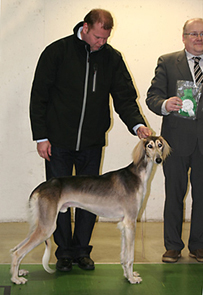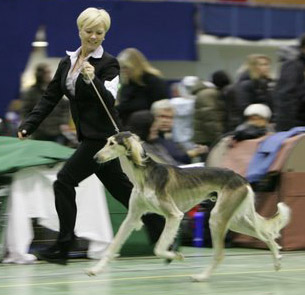 Photo: Annelie Dahlbom & Geir Kristiansen

January 5th, SKKGothenburg, Sweden

At the allbreed show in Gothenburg today, Gaby's son from the Qirmizi-litter, Qirmizi Jeremy won his class with excellent.